Recycling and solid waste industries offer several unique challenges when considering the purchase of a truck scale for their operations. Many facilities have long lines, creating an increased need for a robust, consistent vehicle scale providing minimum downtime and maximum output. Waste facilities generate increased chances for scale malfunctions due to waste contamination and build-up combined with potentially challenging environmental scenarios. With high truck volume, scale inaccuracy and downtime can prompt tens or hundreds of thousands of dollars in profit loss every year. Performing inspections can be timely and very costly when diagnosing and correcting mechanical and wiring malfunctions. Cardinal Scale's ARMOR® series truck scales provide answers to these distinct issues.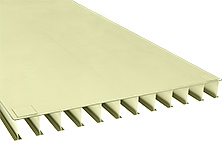 The design advantages start with the weighbridge. The ARMOR® steel deck now integrates internal I-beam structural upgrades. The weighbridge employs 12-inch-high, 4-inch-wide I-beams supporting the deck. Four rows of welded stiffeners provide additional rigidity and safeguards against I-beam deflection. These advancements now boast the highest CLC in the truck scale industry—50 tons concentrated load capacity!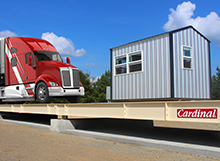 ARMOR® truck scales are built to accept an average daily traffic volume of up to 250 vehicles per day, 365 days per year, for 20 years, assuming that 100% of the vehicles are fully loaded with the equivalent of 80,000 pounds on their dual tandem axle. Those numbers testify that ARMOR® truck scales are built to last a lifetime of weighing use.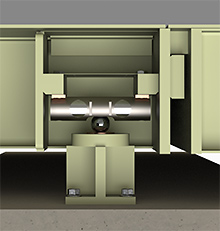 Cardinal Scale's advanced SmartCell® digital load cell system eliminates junction boxes and does not require AC power running to the scale. Messy, time-consuming wiring is no longer necessary. The simple cell-to-cable design directly links load cells to one another, providing a user-friendly system that is much easier to maintain and manage. In the unlikely event of a load cell failure, the connectors on the cables make service a very quick affair to swap out load cells. In addition, Cardinal Scale's SmartCell® load cells are mounted near the top of the scale, further removing the exposure to debris and moisture that is prevalent in the solid waste industry. SmartCell® metal braided cables are rodent-proof, giving an extra layer of protection. Exclusively from Cardinal Scale, the axis® load cell stands employ a unique ball and cup system that uses gravity for load centering which eliminates the need for checkrods and bumper bolts.
Cardinal Scale's 225 Navigator indicator can store up to 200 ID's, with the added bonus of storing 200 temporary ID's. Among the many items displayed are truck descriptions, material prompts, and tare weights. One-inch high characters are easy to view under any lighting condition. When used with digital truck scales, the 225 indicator has the added benefit of storing calibration on the digital load cell card which allows for ease of recalibration in the event of a component failure. Changing a load cell should require no adjustments to calibration.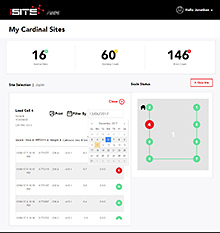 Another innovation from Cardinal Scale is the Cloud-based iSite remote monitoring system. This intuitive diagnostics system can be monitored from any location in the world via an online control panel. Any alerts produced by the SmartCell® digital load cells are sent via text or email, sharply reducing time-consuming diagnoses. Once a scale technician receives an alert, they can log into an online control panel dashboard to look up further diagnostic details. Peak performance can be more easily achieved due to expedited information flow and early error detection. Explanatory prompts give technicians helpful tips on where to start when diagnosing an issue. This makes it easy to diagnose a truck scale issue, even for novice technicians.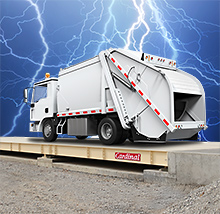 In addition to all of the aforementioned benefits, the ARMOR® truck scale is also available with Guardian® hydraulic load cells that are 100% impervious to water and lightning, two of the most common issues to plague sanitation industry truck scales. Guardian® hydraulic load cells come with a lifetime load cell warranty when used in ARMOR® truck scales. The end result is maximum up-time when the customer considers factors like weather, power surge issues at the site, and water damage, protecting a long-term investment for maximum gain in operations.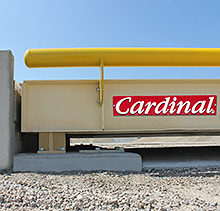 These combined attributes create great advantages for recycling and solid waste facilities when choosing Cardinal Scale. The ARMOR® truck scale with either SmartCell® digital load cells or Guardian® hydraulic load cells is NTEP and Measurement Canada legal for trade. Less time is spent replacing component parts, diagnosing load cell issues, and dealing with weighbridge structural problems. The cumulative time saved is a great return on investment for the customer and a great savings in service fees. Truly, Cardinal Scale has reinvented the steel deck and advanced scale technology into the next generation.
Contact:
Cardinal Scale Manufacturing Co.
203 East Daugherty St.
Webb City, MO 64870
(800) 441-4237
cardinal@cardet.com