Employee Spotlight: Mac Forest, Load Cell Production Supervisor

The man running what is possibly the most integral manufacturing process in all of Cardinal Scale is also quite possibly the most humble. Mac Forest's role as Load Cell Department Supervisor allows him to oversee the whole process of load cell production. Load cells are the "brains" of the scale operation, and the process of producing load cells is a fascinating endeavor.

Mac grew up and lived in Saginaw, Missouri and went to school in Diamond. Mac graduated from Diamond High School in 1983 and attended Crowder Trade School in 1982 and 1983 in their Radio and Television program. Mac started working when he was 13, serving as a janitor at Skaggs in Joplin.

Before starting work at Cardinal Scale, Mac served as a Service Technician for Suburban Mobile Homes in 1978, which was operated by the Neely Family. This allowed Mac to do regional travelling to places that were within a day to two-day radius of the Joplin area.

Mac began his tenure at Cardinal Scale in August of 1984. Initially, Mac started in Research and Development for the Load Cell Department under the supervision of E.E. Chang, who was a PhD in Load Cell Engineering. Mac spent a few years in Production and then moved back to Load Cell Department as a line lead. In 1992, Mac became Load Cell Department Supervisor, and has retained that position ever since.

"I have a very talented crew in this department," says Mac. "We are close, and I can depend on them to provide precision throughout the entire load cell process. Load cells must be exact from the strain gauges to the welding and wiring, and to the testing of the final product. I know I can rely on them to give me their best."

Load cells begin as machined pieces of steel that have cavities carved out on both sides of the load cell block. Strain gauges—small, ultra-thin sensors—are centered and adhered inside of the load cell cavities. These small strain gauges are then wired up and used to detect any movements that are placed upon the load cell when weight is applied. The signal from the strain gauge is then converted to a digital signal and signal information can then be sent to a junction box or indicator.

Mac oversees the whole process in the Load Cell Department from when the machined pieces of steel come in from the Machine Shop to when they become a fully functional, sophisticated electronic marvel. Strain gauges are adhered to load cell bodies through a high-temperature process to harden the adhesive, then meticulously wired and soldered to various circuits, tested for accuracy through subzero and high heat temperatures, and then tested for accuracy when weight is applied. This whole process generally takes several days from start to completion.

Mac spends his spare time at his ten-acre home in Diamond with his wife, Chere. He states he tries to spend as much time as he can in his pool, feeding his semi-domesticated deer, and hanging out with his three "fat" Chihuahuas. His two children, Kyle and Kimberly, both live close, in Carl Junction and Royal Heights.
Loved science as a child

Has worked with engineers from all over the world to develop the processes in the Cardinal Scale Load Cell Department
Helped develop the ISO and VCAP certification processes for Load Cell Department
Has enjoyed all the different personalities that have worked for him
Wanted to be a pilot growing up

Has been married to his wife Chere since 1994
Wants to travel into space in the new commercial spacecraft
Was a self-described "classic rock, 80's hippie" growing up
Has a small collection of miniature TWA planes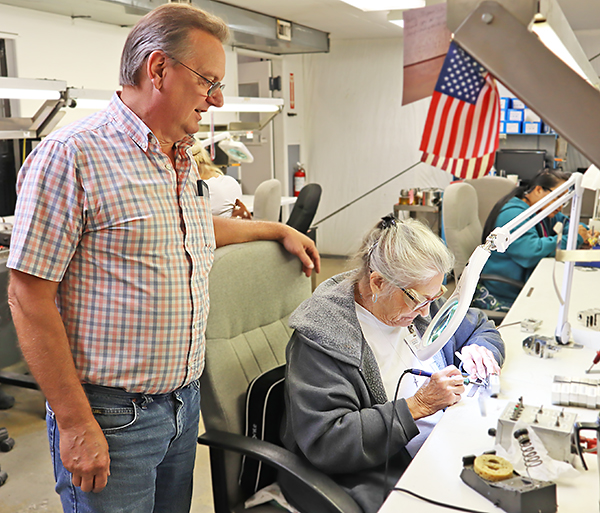 ​