Water and lightning are the two most significant and costly factors when it comes to owning a truck scale. They create expensive repairs, reducing the bottom line in your weighing operation.
Cardinal Scale's Guardian hydraulic truck scale is impervious against these destructive forces and this fast-paced video explains the overall cost-saving benefits of owning a Guardian scale.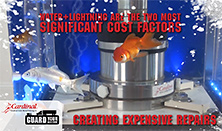 Cardinal Scale VP of Sales Fred Cox explains the Guardian benefits and demonstrates the SST load cell operating fully submerged underwater while goldfish swim around it.
If you are replacing a scale, or adding to your existing group of scales, review the past costs of maintenance, downtime and replacement of load cells and weigh the value and the benefits of what a load cell with a lifetime warranty will do for you.
Contact:
Cardinal Scale Manufacturing Co.
203 East Daugherty St.
Webb City, MO 64870
(800) 441-4237
cardinal@cardet.com