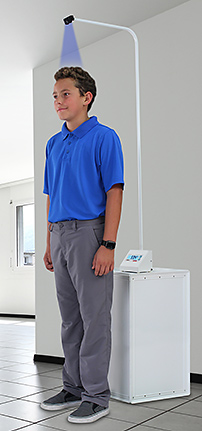 DETECTO's SONARIS stadiometer provides truly touchless height measurement via its state-of-the-art sonar technology that triangulates the top of the patients head instantly. Whether the patient is a tiny child or a giant adult, SONARIS will measure their height, regardless of size, covering a greater height range than any conventional height measuring instruments.
SONARIS can be used stand-alone on a desktop/tabletop without fixed mounting for mobility, or it can be wall mounted for permanent use. SONARIS features pinpoint accuracy to 0.2 in and 5 mm graduations, measurement range from 0 - 9 ft high, displays four units of measurement (ft/in, in, cm, and mm), and is powered by an AC adapter (included) or 6 AA batteries (not included). SONARIS is simple to use, with only two buttons: POWER and UNITS. The stadiometer arrives all in one piece and is ready for use right out of the box (no assembly required).
Instant digital height readouts without pushing a single button
Measures from 0 to 9 ft high (up to 275 cm)
May be wall mounted or set on a countertop
Arrives fully assembled and ready for measurement
Auto calibrate (or manual calibration) to current position for completely portable use
Digitally measures small children up to tall adults
Pinpoint accuracy to 0.2 in and 5 mm graduations
SONARIS auto calibrates to its current position every time its moved, so the unit is completely portable and versatile enough for almost any environment. The easily-visible LCD provides ¾-inch-high bold digits and features a blue backlight. Ideal for school health, hospitals, physician offices, clinics, and patient home use, SONARIS provides instantaneous, touchless digital height measurement using exclusive new sonar technology by DETECTO. Simply set it down on a countertop or wall mount it, auto calibrate, and it's ready for measurement.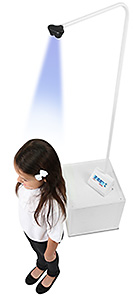 Fast and Simple to Use
Portable or Permanent Set-up
Hygienic! No Buttons to Touch Necessary
Easily-Visible LCD Display with Blue Backlight
Set the Unit Wherever Needed and it Auto Calibrates

Contact:
DETECTO
203 East Daugherty St.
Webb City, MO 64870 USA
(800) 641-2008
detecto@cardet.com