Reducing food waste is becoming a much more important source of increased revenue for commercial kitchens in recent years.
According to the USDA, every year the United States wastes an estimated 30 to 40 percent of its food supply. Statista reports that, in 2015, of the USDA estimates, roughly 16 percent of all food waste is attributed to restaurants and foodservice institutions—nearly one-fifth of all wasted volume! This is a huge source of overhead costs, but also a great source of improvement for foodservice entities to leverage in retaining their hard-earned profits. With food costs rising, waste reduction systems are becoming more important to reduce strain from front-end costs.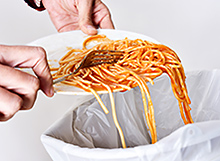 Waste reduction companies are taking advantage of this need for tracking inventory and getting more accurate weight counts. DETECTO's Enterprise series scales, PS portion control scales, and PZ series wireless ingredient scales are all very important tools to aid the fight to increase inventory efficiency, and ultimately, creating increased profits. The accompanying advances in connectivity—Ethernet, Wi-Fi, Bluetooth—create a more streamlined process for saving inventory data and yield a precise representation of a facility's inventory strengths and weaknesses.
DETECTO's foodservice scales are the first line in establishing a solid reduction program. High weight-resolution scales deliver highly precise weights and the associated costs. The ability to audit cooking processes and concomitant prices concretely establishes hard data to analyze. This analysis implementation forms the possible paths to be executed by foodservice management and personnel.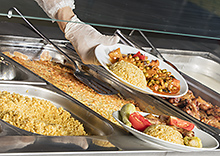 Facilities can track reduction areas, foodstuffs to be saved or discarded, and foodstuffs that can be repurposed. Knowing the usage levels of each product determines which products to reduce and where businesses waste capital. Product usage levels can help businesses push certain menu items and discard those that don't sell well.
Businesses can more accurately spot and predict trends in their kitchens in a highly responsive manner. With the power to trend waste areas, kitchens can adjust their cooking implementation, labor cycles, use more efficient recipes, and utilize batch cooking to match customer trends. This knowledge can better serve the needs of their customer base and attract new clientele.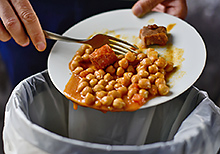 The power of an efficient waste reduction system yields amazing results with effort and consistency. Businesses can expect to save significant amounts of front-end revenue, revenue that can be circulated back into other costs and investments. Foodservice businesses large and small can now bolster their earnings and alleviate one of the most costly factors in their respective operations. And it all begins with a weight measurement of the wasted food combined with a digital tracking system for recording that measured waste.
Contact:
DETECTO
203 East Daugherty St.
Webb City, MO 64870 USA
(800) 641-2008
detecto@cardet.com