Cardinal Scale wishes to recognize the invaluable contributions made by Bryan Wiley, Tool and Die Department Supervisor. Bryan has served Cardinal Scale since 1985, during which he has spent the majority of this tenure in the Tool and Die department, while also spending some time in Engineering.
After graduating high school, Bryan spent two years in American Machinists School learning the finer points of his trade. He then spent his 7-year apprenticeship with Mill Tool and Machine which specialized in making parts for the US Defense Department and various nuclear plants. Bryan's early machining work set him up perfectly for his future with Cardinal Scale.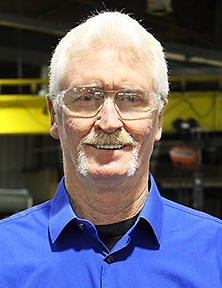 Bryan started working for Cardinal Scale in 1985, and he has spent most of his tenure in the Tool and Die department. Bryan started working in Tool and Die as a machinist and eventually became the Tool and Die Lead for the department. He was then promoted to Cardinal's Stamping Division Manager. After this, Bryan briefly worked in Engineering before moving back to supervising Tool and Die.
Probably the most unheralded area of the plant, Tool and Die is responsible making the tooling for sheet metal parts and designing and building the plastic injection molding for some of Cardinal's indicator models and other plastic parts. Tool and Die also makes parts to order for Maintenance when they need repair parts. Bryan helped build up most of the tooling when he started, developed progressive dies and quick die changes, and increased overall efficiency of the department.
"Bryan has always been very helpful to me. He will go out of his way to aid production, and I greatly appreciate him for that," remarks Don Southard, Plant Manager
When asked about his favorite aspect of his position, Bryan feels tough challenges are most gratifying. "What I really enjoy is the problem solving," says Bryan. "Things that generally take a long time to build and develop are the most rewarding."
In his spare time Bryan does carpentry, rides motorcycles, camps, and spends time with his wife, Becky (whom he met at Cardinal Scale) and his grandchildren, Elissa, Amara, and Gaetano. When pressed about the best part about his work, Bryan feels his co-workers have been the most important. "The people have kept me here this long. They know their stuff and cause me no problems. With all of their combined experience they have made the atmosphere great," he says.