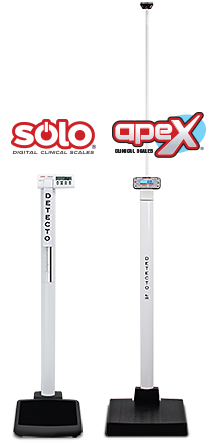 (Webb City, MO) DETECTO announces the direct integration of the solo® and apex® eye-level digital physician scales with Schiller's DS20 diagnostic station. The solo® and apex® are two of the top-selling column scales with height rods on the clinical market and this purely-digital interface allows the scales to transmit height, weight, and Body Mass Index to the other measurements being recorded in the DS20, such as vital signs, Pulse Wave Analysis and Electrocardiograms.
This synthesis between Schiller's digital platform for vital signs and DETECTO's information transmission for physical measurements yield a complete patient record which can be transmitted to an EMR system. The connectivity is plug and play between the DETECTO scales and the Schiller DS20 vital signs monitor, offering ease of use to clinical practitioners. All main vital signs and physical assessments can be captured in one streamlined patient workflow.
"DETECTO is pleased to offer the capability to assimilate two of our most popular physician scales, the apex® and solo®, with Schiller's DS20 diagnostic stations," stated Jonathan Sabo, DETECTO Vice-President of Marketing. "This automatic transmission provides quick and efficient patient measurement data that can be stored in an EMR. At DETECTO, we strive to manufacture products on the cutting edge of clinical measurement technology. For instance, the apex® scale's sonar height rods employ touchless height measurement for optimal efficiency, accuracy, and hygiene. With the Schiller integration, it has given us the opportunity to expedite patient records in yet another purely digital platform."
DETECTO, which was founded in 1900, offers a global distribution network of authorized clinical dealers for a worldwide presence. The company's factory and headquarters is located in Webb City, MO.
Contact:
DETECTO
203 East Daugherty St.
Webb City, MO 64870 USA
(800) 641-2008
detecto@cardet.com