Cardinal Scale's new ARMOR® series digital truck scales with SmartCell® load cells offer unmatched performance built to last a lifetime of heavy-duty weighing use. Every facet of the digital truck scale weighbridge and electronics have been specifically built for long-lasting endurance, minimal upkeep, and IoT monitoring convenience.

ARMOR® truck scales feature 135-ton capacity, 50-ton CLC, no moving parts below the scale deck including the load cells, more structural steel than the competition, SmartCell® stainless steel waterproof digital load cells, and IoT-enabled iSite remote monitoring software.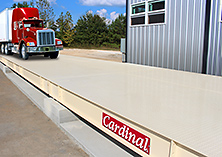 The state-of-the-art, debris-inhibiting load cell stand design limits obstructions to the scale's performance with the digital load cells mounted high within the stand near the scale deck. The load cell stands are fabricated from one-inch-thick steel to minimize rust and corrosion damage and ensure long-term strength and durability. The long-lasting baked-on tan powder coat paint finish ensures a lifetime of trouble-free protection. The Cloud-based iSite remote monitoring software offers e-mail and/or text alerts to ensure your scale is performing during peak operations.
The NTEP legal-for-trade ARMOR® series arrives fully prepared for quick installation with load cell stands pre-installed. Cardinal Scale's unique axis® frictionless centering system provides gravity-driven dynamic centering to restrain deck movement and vibration. Each ARMOR® weighbridge features interconnecting load blocks and receivers for efficient, no-bolt installation. Enhanced rodent protection is standard throughout the truck scale using braided wiring and conduit integral throughout each scale module. Every ARMOR® truck scale is 100% assembled, pre-calibrated, and tested before shipping.